WELCOME HOME
Enjoy the lazy sunshine as you raft along a sparkling river. Nap under the majestic canopy of the Nation's tallest trees. Excite over world-class bird watching. Rich in history, rich in nature. This cosmopolitan southern city has great culture, arts, entertainment. In Columbia, relaxed living is easy.
WELCOME TO
Your Perfect Rental Home
Location Information
More About Columbia, SC
Columbia, the capital of South Carolina and the state's second largest city, dates back more than 250 years and has a past rich in civil rights and military history. Named after Christopher Columbus, Columbus was South Carolina's first planned city, and the Nation's second planned city (behind Savannah). Today Columbia boasts National recognition as a "Walk Friendly Community" due to its significant infrastructure that supports biking, walking, and easy access to stores, restaurants and essential needs.
The City sits at the confluence of three rivers that flow through downtown. Trails along the Saluda, Broad and Congaree rivers comprise the Three Rivers Greenway Trail Park System, popular for walking, jogging and biking. When you enjoy an active lifestyle, Tricon Residential's single-family home rentals afford you freedom and convenience. Virtually maintenance-free living and highly-rated customer service makes this an ideal home-living solution.
A short drive from Columbia, explore Lake Murray, a 50,000-acre recreational area with roughly 500 miles of shoreline, and Lake Murray Dam. Upon its completion in 1930 it was considered the largest earthen dam in the world.
Columbia has a humid, sub-tropical climate that brings hot summers and mild winter weather. During the summer, people flock to Congaree National Park for canoeing, kayaking, hiking, camping, bird watching and picnicking. The 26,000-acre park boasts the largest intact old-growth bottomland hardwood forest remaining in the United States. The Park has some of the tallest trees and highest canopies in Eastern North America, and is a globally important bird area.
Other parks in the area include Sesquicentennial State Park with a 30-acre lake, and Harbison State Forest with over 2,100-acres of forestland. Riverfront Park on the Congaree River is a popular spot for runners, cyclists and walkers. In Columbia, you won't wander far without coming upon a quaint neighborhood park. Live in a Tricon Residential single-family rental home and you'll have the flexibility and independence to enjoy this extraordinary city. Choose a pet-friendly home with great options like Smart Home Technology, attached garage, oversized closets, and a fenced backyard.
Columbia's rich history has been preserved and presented in a wide range of museums and walking tours. Columbia was an important political and supply center for the Confederate States Army during the Civil War. In 1865 much of Columbia was destroyed by fire – and the story behind the City's burning continues to be a topic of hot debate today.
Many historical architectural styles make up Columbia. The South Carolina State House is a fine example of the area's Greek and Classical Revival Architecture, and Columbia's Main Street represents three centuries of architectural styles.
Columbia is home to the University of South Carolina, Columbia International University, Columbia College, and Benedict College, among others. In Columbia, there is no shortage of college games to attend during football, baseball and basketball season. You can also cheer on the Columbia Fireflies, Columbia's minor league baseball team, at the new Segra Park.
Food and libations are plentiful in this college town, whether interested in a coffeehouse,  burger joint or a cosmopolitan setting. You'll find sophisticated lounges and restaurants, live entertainment, casual cuisine, pubs, and everything in between.
Columbia is known as "The Capital of Southern Hospitality."
The city welcomes you with a generous spirit and offers a low cost of living. Come experience truly exceptional southern living – Columbia style.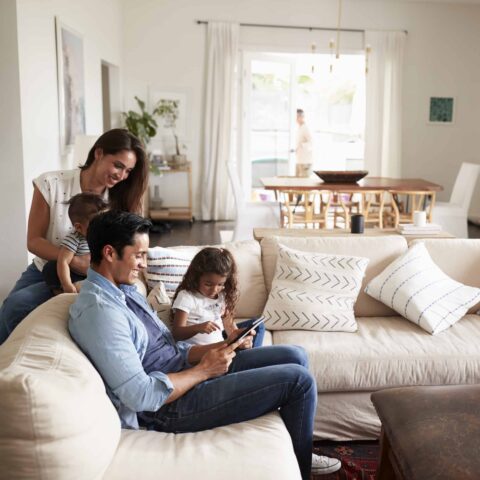 Why Rent with Tricon Residential
Founded on the understanding that a home is more than a roof over your head, Tricon Residential is committed to helping families find that perfect single-family home or apartment community.
An industry leader in customer service, we maintain high-quality homes to exceed standards. That's why Tricon Residential is one of the fastest-growing residential real estate companies in the country.