Welcome home
San Antonio will steal your heart. The magic of River Walk with its sparkling lights, quaint bridges, gondoliers, waterside cafes and music softly dancing along the waterway. Only in San Antonio. Exotic flavors. Distinctive cuisine. Prideful heritage. Cherished historical missions. A passionate people. An exhilarating city with much to give.
Welcome to
Your Perfect Rental Home
Location Information
More About San Antonio, TX
Located in south-central Texas, San Antonio has a rich colonial heritage. Known as "The Alamo City," it boasts a mild year-round climate, making it easy to enjoy a host of outdoor activities.
San Antonio also has a strong economy and low cost of living, and is a great place for a career, as it was recently ranked among Forbes top 20 for having the best employers in Texas, 2019.
In 1718, The Alamo was one of the first Spanish Missions in Texas, and during the Texas revolution it served as a fort. The 18-th century Mission played a critical role in the settlement of Texas and the Southwest, and marks the infamous 13-day battle of 1836 for Texan independence from Mexico.
San Antonio today is a vibrant city with a bustling downtown, and one level below the city lies River Walk. The 15-mile long River Walk is a pedestrian promenade that winds along the San Antonio River past restaurants, shops, under bridges and connects major city attractions such as Rivercenter Mall,  the San Antonio Museum of Art, and The Spanish Governor's Palace. Quaint neighborhoods with charming tree-lined streets are located throughout San Antonio. Residents find a welcome convenience in renting a single-family home or apartment from Tricon Residential. Professionally renovated homes are available with a myriad of options, including pet friendly with fenced backyards, attached garages, oversized closets and more. Apartment choices also are varied, with a wide range of floor plans, features and resort-type amenities.
Throughout San Antonio you'll find the historic footprint of old Texas. The city is home to four southernmost Spanish colonial missions that are part of the San Antonio Missions National Historic Park; Concepción, San José, San Juan and Espada.
San Antonio cuisine is reflective of the city's great heritage. Its culinary palette is derived from age-old European and Mexican traditions. Centuries ago, settlers brought fragrant spices, exotic foods and unique cooking styles that reflected their distinct heritage.
Nightclubs and dance halls are a main stay of San Antonio with live music at Main Plaza, located in the heart of downtown; and Cowboys Dance Hall with its country-western music and dance. Graham Central Station has Tejano's Latin rhythms, and Bohanan's Prime Steaks & Seafood (www.bohanans.com) is the place for American standards, cool bossa nova beats, R&B and jazz. HemisFair Park is an urban oasis with dining, entertainment, and the 750-foot Tower of the America's that overlooks the city.
San Antonio is home to the five-time world champion NBA's San Antonio Spurs; WNBA's San Antonio Stars; USL's San Antonio FC; ice hockey's San Antonio Rampage, and minor league baseball's San Antonio Missions. The city offers basketball clinics for young players, to Spurs Jr. Silver Dancers, and many engaging activities for children.
You'll find Texas-size fun in San Antonio with world-class theme parks and water park resorts. The city has a multitude of parklands and wilderness trails for biking, hiking and canoeing. There's over 150-miles of citywide trails, so no matter where you choose to live, you're sure to find nearby trails for recreation and exercise. Select a Tricon Residential single-family rental home or apartment, and you'll enjoy the freedom and independence to spend more time taking in the great outdoors thanks to virtually maintenance-free living and exceptional, highly rated customer service.
With its mild, temperate climate and vibrant, fun attractions and recreation, San Antonio is a place to enjoy year-round. Combine that with its healthy economy and rich cultural heritage and you can see why San Antonio will surely win your heart.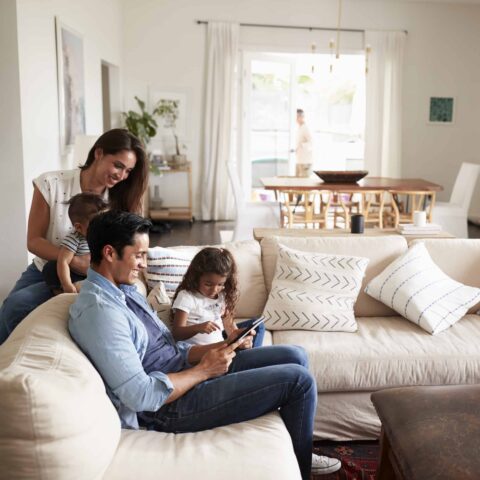 Why Rent with Tricon Residential
Founded on the understanding that a home is more than a roof over your head, Tricon Residential is committed to helping families find that perfect single-family home or apartment community.
An industry leader in customer service, we maintain high-quality homes to exceed standards. That's why Tricon Residential is one of the fastest-growing residential real estate companies in the country.